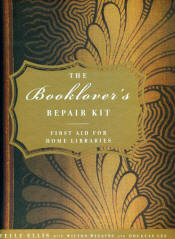 The Booklover's Repair Kit
The Booklover's Repair Manual
by Estelle Ellis with Wilton Wiggins & Douglas Lee
Knopf, 2000, hardcover, issued without jacket. 117 pages. An extremely good book that's the victim of extremely poor marketing. In the pictures to the left, the first is the cover of a large, sturdy box, 4½" deep, that contains the book and a plethora of book repair supplies.
These include items such as a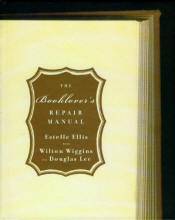 pink pearl eraser, pH neutral glue, various brushes, thread, book binding tape, knitting needle, white cotton gloves, and many, many other things that are needed to perform the repair jobs outlined in the book.
The problem here is that most people, reading the list of items they're paying for, don't want the eraser or knitting needle, and so they're reluctant to pay the steep cost for the whole kit, which originally retailed for $125. You can get it for about a third of that (check Amazon.com), and quite frankly, the book alone is well worth the forty bucks. There's a nice chapter on repairing paperbacks.